Urghhhh.....
Bad night sleep, I had. Need coffee, I do. Talk in these funny sentences, why do I? Look in the mirror I must.
Going there, I am.
Walk too fast, I can not.
Finally, there, I am. A fright, I got.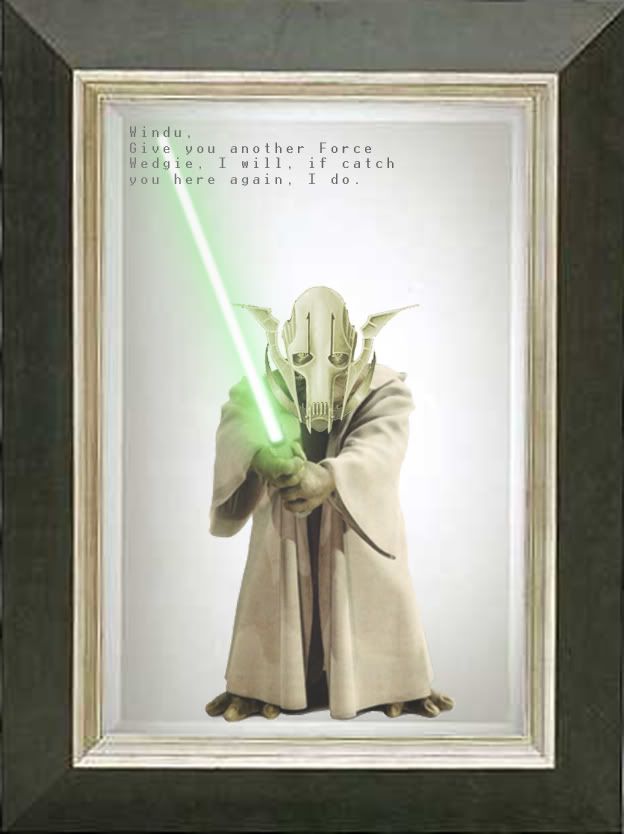 ARGHHHHHH..... My body, happened to it, what did? That potion, it must have been. See that Doctor, I ought to (In the post below, information, you will find.). As soon as the toilet I find, I will.

Out into the corridor, I walked. Ran into Windu, I did. A strong urge to hurt him, I did.
"Shiny, out of my way, move!"

"Do you, think so?"

"Yes!"

"Thank you Yoda, you haven't given me such a complement since... you haven't ever given me such a complement."

"Get out of the way, will you?"

"But, we have a Council meeting to go to."

"But, see the Doctor, I must."

Dragged to the Council Chambers, by my robes, I was. Sit on a chair, I did. Supposedly, on the wrong chair, I sat. In Kenobi's chair, I was. Even better, I felt.

At lunch time, to see the Doctor, I went. Expect to have a slinging mach, I did not.
"My body, give back!"

"It is for your own good."

"Good, how is it? Angrier, it makes me. Talk like this, I can not, for much longer."

"Too bad, you will be like this for the rest of the day."

"Spend the rest of the day with Windu, you are asking me?"

"Yes."

Back to the Council, I flew. Left my indicator was on for 10 minutes, a fine, I did not deserve! Arrive late, I did. Apparently, tarnished my reputation now is. At least, Yoda's fine and reputation, it is.

Only end, the day did, when Force Wedgies, to all the Jedi, I delivered.